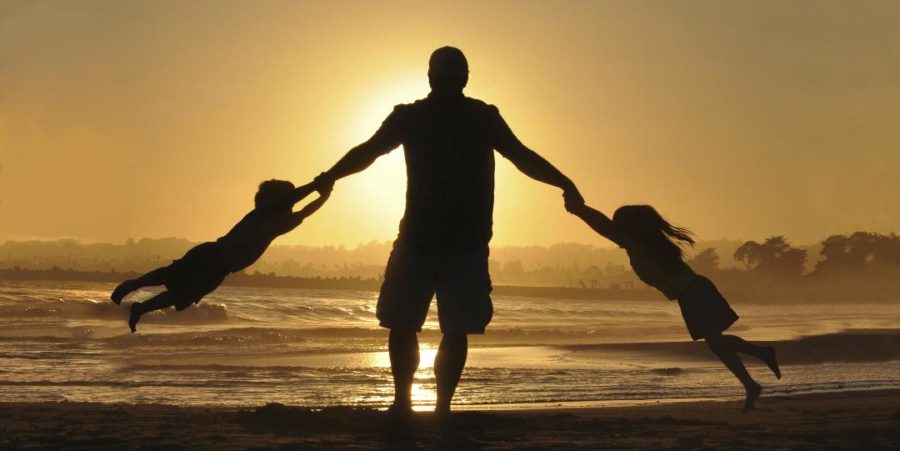 Church News
This weekend we approach Fathers' Day. However, the day's focus is probably overshadowed by anticipation of the Premier's announcement about the Covid restrictions and hopes for their easing. This aside, the Diocese project director for Prevention of Violence Against Women-PVAW, Robyn Boosey, in her Fathers' Day reflection in the
'Breaking Free from Male Stereotypes' speaks of the damage done to men by the shallow images of masculinity reflected in greeting cards and TV ads. These fall far short of the range of attributes and emotions which men bring to the role of fathering and to their relationships.
This accompanying
offers a more wholistic and realistic picture of dads. It suggests that affirmation of the variety of characteristics men bring to being who God made them to be is necessary to free men from the pressure of fitting unreal stereotypes and the social and emotional issues that spring from that.
Jesus remains the most amazing and healthy model of manhood. In his utter dependence on God and his unpretencious love and healing for those who others ignored and rejected, Jesus showed us how to live.
This Sunday Jeff Andrews brings us a thought provoking message from Isaiah 55 on the character of our Heavenly Father with inspiring reflection on how we can follow in our Father's footsteps.

ZOOM FELLOWSHIP AFTER SUNDAY'S SERVICE!
Straight after the 10.30 service this and each Sunday morning you are invited to fellowship together, via the zoom link below which will also be included in Jessica's Service email. You will be asked for a Passcode which is provided below. In breakout rooms with others we will have the chance to catch up with or get to know and make feel welcome those we meet. Join in the excitement of actually seeing your brothers and sisters in Christ again and be encouraged!
HYMN SINGING SERVICE ON ZOOM SUNDAY 13 SEPTEMBER 4 PM
You are invited to join in singing well known favorite hymns in the context of a short CCD service on Sunday afternoon 13 September 4pm. No experience necessary. All welcome! Live music will kindly be provided by Carol Charters on the keyboard. A link and passcode will be provided in next week's emails.
NEW COURSE – EMOTIONALLY HEALTHY RELATIONSHIPS. REGISTER NOW!
Part 2 of our EH Discipleship course commences in Term 4 – first week of Oct. learn the skills to loving people well and to avoid common pitfalls. Evening and daytime groups. Cost $35 ($30 conc) and $60 a couple covers workbook and devotional book each. Register at
by 20 Sept.
Further details
GLOBAL PRAYER FOR AN END TO COVID 19
AND A CALL TO PRAYER FOR OUR NATION
SAT
–
SUN 26-27 SEPT
Bishop Philip Huggins, President of the National Council of Churches, has asked that the Aboriginal Christian Elders of Australia, led by Ps Peter Walker, will lead the churches of the nation in a National Solemn Assembly according to Joel 2, over 2 days, 26-27 September 2020.
You can join this extended prayer vigil on zoom
DATE: Saturday 26 & Sunday 27 September 2020
TIME: 9am-9pm (AEST) each day
ZOOM URL LINK:
ZOOM MEETING ID: 776881184
For 12 min video of Ps Peter Walker's story
.
"Gracious God, trusting in your providence and presence,
we bring our prayer for an end to this pandemic.
We pray for your strengthening of those offering costly
leadership during this crisis.
We pray for all who are ill.
We pray for those anxious about getting ill.
We pray for those full of grief.
We remember those who have died.
We pray for your grace to sustain us as we do what we can in
our context.
We ask these things, as you encourage us so to do.
'Ask and it will be given you.' (Matthew 7:7).
In resurrection faith, we offer our heartfelt prayer through
Jesus Christ our Lord.
Amen."

VALE BETTY A
A much loved member of our 8.30 congregation, Betty A, passed away in the Lord on Friday 28 August, aged 84. Betty's health rapidly declined after a recent diagnosis of liver cancer. Betty had migrated to Australia from England in 1958 and been in constant secretarial work, especially in the medical field. In retirement she was a long time secretary of U3A in Moorabbin and frequently travelled overseas. She also enjoyed organising social events at Lexington Gardens where she resided. Betty was a very active and cheery person, always looking immaculate and ready with a friendly word. Her living relatives are a niece and nephew in England and in Australia she is mourned by neighbours and friends at Lexington Gardens and close friends of nearly 60 years – Iris and Bruce. Betty has been part of CCD for nearly 20 years and deeply valued the worship life of this community. It is intended that a memorial service take place in Betty's honour when restrictions are sufficiently lifted. Rest in peace faithful sister as you await the resurrection call of your Lord and Saviour upon his return.

PRAY FOR OTHERS
Please pray for healing for T,(a believer and good friend of the Preman's with Stage 4 lung cancer); for B's wife H awaiting surgery for injured knee – in hospital after a fall; give thanks for R's successful surgery; pray for S, having treatment for prostate cancer; for C's husband, D, undergoing cancer treatment – give thanks for good report; Pray for A's Mum – W – home now after minor stroke, and for the family caring for her and for her future; for N and all nurses in aged care; Continue praying for complete healing and recovery for C, E, J, A, J, P, S, L, C, A. Pray for God's comfort for R and for N and for health for N's daughter P . Pray for our staff team – for Tanya (recovering from recent surgery that went well) and for Baden as he leads our young people; for Mecka leading the Covid fight in Tanzania and for his family here in Australia; for Greenwood Mews and Manor – that the love of Christ touch and open many hearts to his grace and goodness. Pray for the people of Dingley Village, all who run businesses and for medical clinics and care workers.

PRAY FOR OUR MISSIONARIES
REV MECKA OGUNDE is in Tanzania as Secretary General of the Anglican Church there. His
main task there is to educate Tanzanians to prevent the spread of Covid 19 and thus save
lives. They will use the usual means to achieve this except 'lock – down 'which would severely impoverish the people and the government. Please pray for :-
* His success in this task.
*Our finishing raising $ 25,000. to assist in this (about $ 10,000. still to go )
*Pray for his family in Melbourne—-now separated from him travelling back and forth.
You can give to this appeal
TMA NEWSTAND
Global Christian news