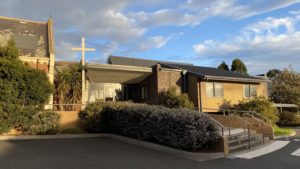 Why not join us one morning?
.
A small group of us meet each weekday in the
Heritage church at 9am for the Daily Office
with Bible reading and prayer. You are invited to join in!
Vicar on the Move…
Wayne announced last Sunday that he has been appointed to the Parish of St Michaels and All Angels Beaumaris. (This is a one centre parish, despite its long name!)
It is a four day a week role with a small traditional congregation
that aspires in the Lord to reach out to God and its community in loving service and witness.
Wayne will be commissioned there on the evening of Weds 11 August 7pm.
All are welcome to attend. (RSVP required, in time)
Wayne's last Sunday at Christ Church will be 27 June at a combined 10am service
followed by lunch. RSVPs required for the lunch.In your prayers this week, please remember:The Work of the Incumbency Committee
Almighty God, giver of all good gifts: Look on your Church with grace and guide the minds of those who shall choose a pastor for this congregation, that we may receive a faithful servant who will care for your people and equip us for our ministries; through Jesus Christ our Lord. (Lutheran Book of Worship, pg. 46)

Pray for those doing Alpha that hearts and minds will be filled with faith at the hearing of God's word.
Pray for Holy Spirit to transform lives as we approach the Alpha HS Day on Sat 29 May. Pray for the team for grace and wisdom.
Pray for our Young adults to be gathered and assisted to grow in faith.
Pray for
Jeff Andrews of (Rite Mentoring)
working with young people in Years 9 to 11. The team are at a Chaplaincy Conference today and Friday -Jeff leading a workshop on 'Rites of Passage'. Volunteers are needed to help with logistics at camps. Praise God for new mentors (males over 18). Pray for their training, for conversations with schools, for re-launch of community 'Rite Man program, for ongoing mentoring, and curriculum development.
For more information contact Jeff. [
jeff@ritementoring.org.au
]. 0411 306 678
Pray for
Steve Cooke's
application for a two day a week chaplaincy role in a local Islamic College; for a venue for Afghanis to play volleyball, and for Steve's parents -Lyell and Merle in their health struggles.
Regular Gathered Prayer times at CCD:
Saturday 8-9am in the Auditorium
Sunday 10-10.25am in the Multi-Purpose Room
Wednesday 12pm- 1pm in the Church
NEWS

Soup Makers Needed for Winter Lunches
Please contact Lucy (0402128773) if you are willing to make a pot of soup for a first Sunday of the month in either winter month of June, July or August.

MMA Bakers of cakes and biscuits needed
Our major supplier of home-baked goods is no longer in action, so we are seeking people willing to bake for the MMA stall on a regular basis or as often as you are able. Please contact Margaret 9551 2508

Right Now Media
We have a wonderful resource for all the family to access excellent Christian teaching and videos or audio on their phone, PC or i-pad. Please check this out and make good use of it – whether at home or out and about. Contact the office if needing assistance.
Shalom,
Tanya, Wayne & Baden